Affiliate Program Tutorial
1. Getting started
To create an affiliate account you have to fill an online form on LaFactory.com providing your name and contact details.
The account request is then sent to administrators for approval. As soon as your candidature is confirmed, you will be able to log in to the newly created account. By default it is set to a basic affiliate plan with a 3% commission and 5$ per a new vendor found.
If you were offered other plan features via direct contact with LaFactory representatives or as part of the company's influencer campaign, such as 10% commission for "Thaimade" and "Comicshop" boutiques, you should request the promised modifications by contacting LaFactory's support. You can do so in a special Slack chat for influencers. An email invitation to the said chat is send to you when your account is approved. You can also ask there any other questions related to LaFactory's affiliate program.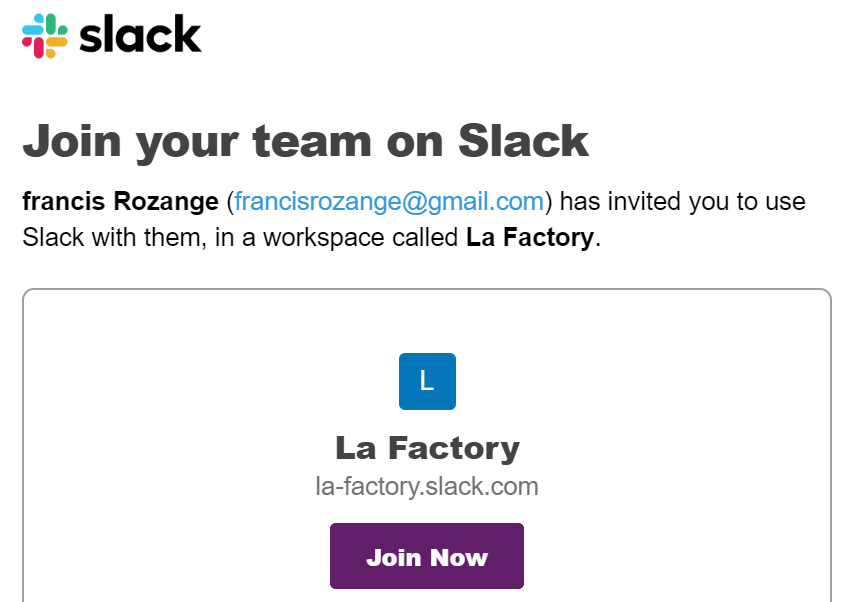 2. Understanding your affiliate account
When your account plan is finally set up, you should be able to examine the details of your affiliate plan, see your progress and what bonuses you are about to get. These features make the relations between the affiliates and the store administrator as transparent as possible.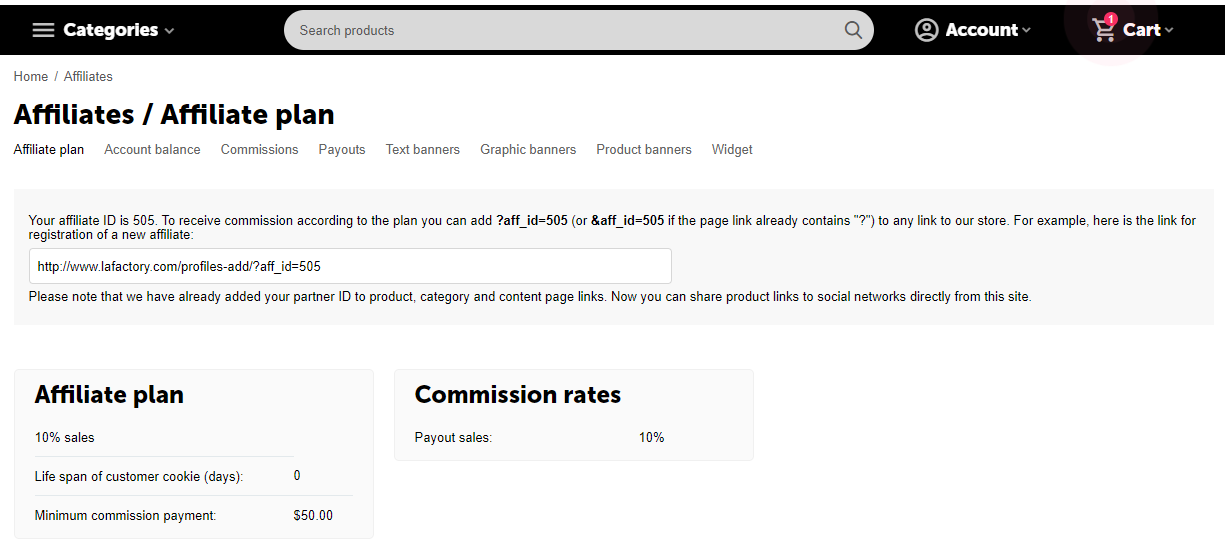 The default minimum commission payment is 50$, if you want to alter this amount, contact LaFactory support as explained above.
The "life span of customer cookie" is indefinite, which means that if an unregistered user once clicked your affiliate link or banner, you will continue to get commission for all his/her/their purchases on lafactory.com until the customer clears cookies or registers on the website.
3. The basic affiliate plan
Every affiliate has the right for at least 3% of the value of every purchase made by users who clicked on the link or banner containing the affiliate's unique ID. You may switch your affiliate plan or create an additional account with a commission of 10%, but only for sales in "Thaimade" and "Comicshop" online boutiques.
LaFactory does not send products for testing to affiliates at this level. However, influencers who prove to be efficient can get access to LaFactory's VIP program with 10 to 20% commissions and free products related to fashion and health.
4. Affiliate links and banners
Your Affiliate ID is already added to URLs of product, category and content pages when you log in to the account. Thus, affiliate links to most website pages can be shared to social networks directly from the store. If the link doesn't contain your ID automatically, you can add it manually to the end of the URL.
For influencers with a website there are also several ready-made text and graphic banners leading to specific product groups and categories. These can be added to web pages using a provided piece of HTML code. The functionality is similar to that of an affiliate link.
Example of a graphic banner
If you need a new graphic banner for a certain product or category, contact LaFactory support in Slack channel, and our team of web designers will create one for you.
You can also add to your website product banners which show specific items in the store. A product is selected randomly each time the banner is shown.
Example of a product banner code
5. Product groups
You can use the already existing groups or ask LaFactory's support team to create a new group for you which would contain only the products of your personal choice. The customer who clicks the banner leading to a product group will see on the web page only the items that this group contains.